This year's Champions for Health Governance (CHG) awards search has garnered a total of fifty-four (54) entries coming from all over the country. After undergoing two sets of rigorous screening, the CHG 2015 team is pleased to announce the outstanding LGUs who made it to the top 12!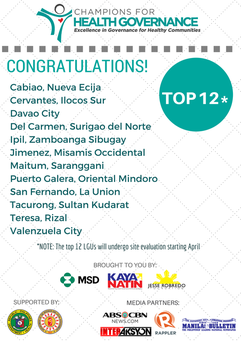 Representing the Luzon region are Cervantes (Ilocos Sur), San Fernando (La Union), Cabiao (Nueva Ecija), Valenzuela City (NCR), Teresa (Rizal), and Puerto Galera (Occidental Mindoro). Hailing from Mindanao to complete the twelve are Tacurong (Sultan Kudarat), Maitum (Saranggani), Davao City (Davao), Ipil (Zamboanga Sibugay), Jimenez (Misamis Occidental), and del Carmen (Surigao del Norte).

All entries listed above would still have to undergo an on-site evaluation, to be executed during the entire month of April, as well as a panel interview on May 7, 2015 at the SeaOil Training Room at Ortigas Center, Pasig City. Awarding of the top 5 winners will be held on May 29, 2015 at Club Filipino. 
The biggest congratulations to the LGUs who made it to the top 12! 
To get updates on the awards, visit their website here.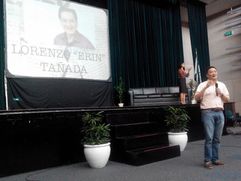 Caravan of Good Governance visits Benilde!

Last March 16, 2015, Kaya Natin! shared Jesse Robredo's legacy of good governance to 289 students of De La Salle College of St. Benilde. The Caravan of Good Governance started off with Former Quezon Province 4th District Representative, FOI Champion and Kaya Natin! Champion Lorenzo "Erin" Tañada's discussion on how students in themselves, and in their student governments can practice good governance, transparency and accountability. Former Cong. Erin urged aspiring student leaders to practice a more participative form of student government that provides for what the students really need and ask for.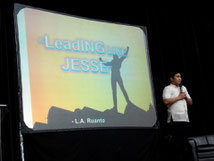 Infanta, Quezon Councilor Lord Arnel "L.A." Ruanto, on the other hand, discussed good governance on a personal level. He started by explaining why we are in dire need of good governance, and which qualities of Jesse Robredo each individual must practice in their personal lives and their leadership styles. The Caravan ended with Benilde's COMELEC announcing their school's student council candidates for academic year 2015-2016.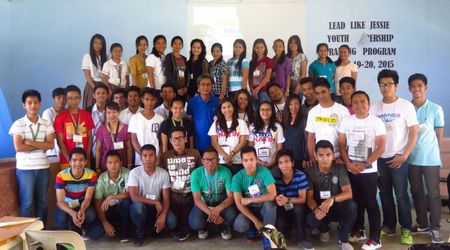 Robredo's Legacy Making Waves in Baler
In the hope of spreading the life and legacy of Jesse M. Robredo, Kaya Natin Movement for Good Governance and Ethical Leadership in partnership with the Jesse M. Robredo Foundation, and the Vicente and Juanita Hao Chin Chua Foundation brought the Lead Like Jesse Youth Leadership Training Program in the province of Aurora, in the small town of Baler last February 19-20, 2015. 
Thirty selected youth leaders from different high schools and colleges in Aurora were inspired by the life and the Matino at Mahusay Leadership of Jesse M. Robredo. The three-day youth leadership training program was graced by the presence of Governor Gerardo Noveras, Governor of Aurora, Poro Point Management Corporation President and CEO Florante S. Gerdan, and the Former Governor of Aurora Ramoncita Ong.