UNIGHT for Justice and Peace, Solidarity Night for the Fallen 44 Heroes of Mamasapano
FEBRUARY 6, 2015, QUEZON CITY -- The heartbreaking story of the Fallen 44 Heroes of Mamasapano massacre inspired the event of UNIGHT, a candle-lighting event where people from different fields and religions gathered to join hearts and call for justice.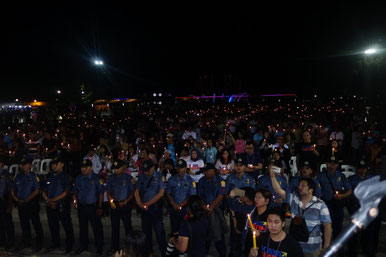 The event organized by members of the Kaya Natin! Movement for Good Governance and Ethical Leadership took place at the Liwasang Aurora Quezon Memorial. It was an evening intended to highlight peace and justice not only in Mindanao but in the whole nation as well. Local artists like Noel Cabangon, and Jim and Buboy from APO Hiking Society gave honor to this night of solidarity as they filled the place with music while the crowd lit candles and paid their respect to our brave heroes, the Fallen 44. People who attended the event came with hearts open and possibly grieving, but left with hearts ready and filled with hope that peace can still be the answer that will ultimately put conflicts regarding the Mamasapano massacre to an end.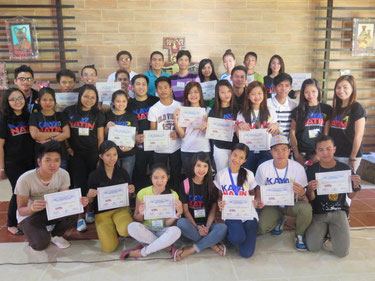 Lead like Jesse Goes to Infanta
Last February 6-8, 2015, Kaya Natin! in partnership with the Jesse M. Robredo Foundation and the office of Councilor Lord Arnel Ruanto of Infanta, Quezon implemented the fifth leg of the Lead Like Jesse Youth Leadership Training Program in Infanta, Quezon. 28 youth leaders from the municipalities of Infanta and Real Quezon through series of leadership and team- building activities were taught how to be ethical, empowering and effective leaders and more importantly how to be "matino and mahusay" leaders as inspired by the life and legacy of the late DILG Secretary Jesse M. Robredo. These youth leaders were empowered and inspired by leadership experiences and lessons shared by Among Ed Panlilio, Councilor LA Ruanto, Marisa Lerias, Harvey Keh and Councilor Amie Hernandez. One of the key partners in this particular program was the Vicente and Juanita Hao Chin Foundation.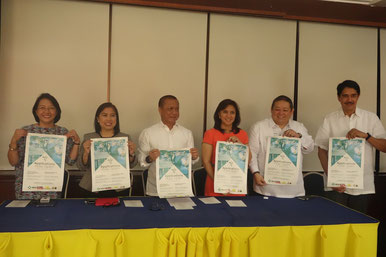 Call for Champions of Health Governance 2.0 

For the second time around, Kaya Natin!, in partnership with Merck Sharp and Dohme (MSD) and Jesse Robredo Foundation, with the support of Department of Health and Department of Interior and Local Government, launched the Champions for Health Governance Awards (CHG 2015) last February 24, Tuesday at Club Filipino in San Juan City. CHG 2015 aims to recognize LGUs with the best health programs that are aligned with UN Millenium Development Goals 4, 5, 6 and DOH's Universal Health Care. This year, the top 5 winning LGUs will receive a trophy, a cash grant of Php 100,000.00 and Php 500,000.00 worth of medical supplies and equipment from DOH. The deadline of submission of applications has recently been extended to March 20, 2015.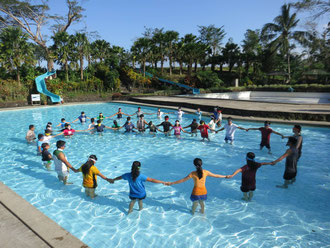 Touchdown Naga: SEAOIL – Emerging Leaders Camp
In the Heart of Bicol, Naga City, 40 dynamic student leaders from Naga and Iriga City have participated in the SEAOIL Lead Like Jesse Robredo Emerging Leaders Camp held at Peñafrancia Resort last February 20-22, 2015. The three day stay-in leadership camp aims to spread the leadership values and legacy of the late Sec. Jesse Robredo and to inspire the youth to take part in nation-building as catalyst of change. Participants went through a series of character, leadership and team building activities with a focus on how to be an effective, empowering, and ethical leader in their respective communities. As of today, Kaya Natin! and SEAOIL Foundation, Inc. have already produced more than two hundred (200) active Jesse Robredo Ambassadors in Davao, Bacolod, La Union, and Camarines Sur.
Reaching Region Five 

Aiming to ignite citizens' participation by sharing good governance practices of Jesse Robredo and Kaya Natin Champions to different universities and parts of the country, the Jesse M. Robredo Caravan of Good Governance traveled Infanta, Daet, Iriga City, and Nabua for the entire month of February. With the help of KN Core Member Councilor L.A. Ruanto, about three hundred citizens of Infanta heard the three core values of Kaya Natin through the following talks: ethical leadership delivered by Among Ed Panlilio, empowering leadership through the people's council from Cong. Bolet Banal, and effective leadership from Marisa Lerias and Jess Lorenzo. Meanwhile in the Bicol Region, the leadership qualities of Sec. Jesse Robredo was shared by Councilor LA Ruanto to around forty student council members and police force of Daet, Camarines Norte with the assistance of KN Champion Tito Sarion. A back-to-back Caravan was also held in Iriga and Nabua, Camarines Sur through the help of former Iriga City Mayor Madelaine Alfelor-Gazmen, reaching at least a total of 2,000 students in the University of St. Anthony and Camarines Sur Polytechnic College.