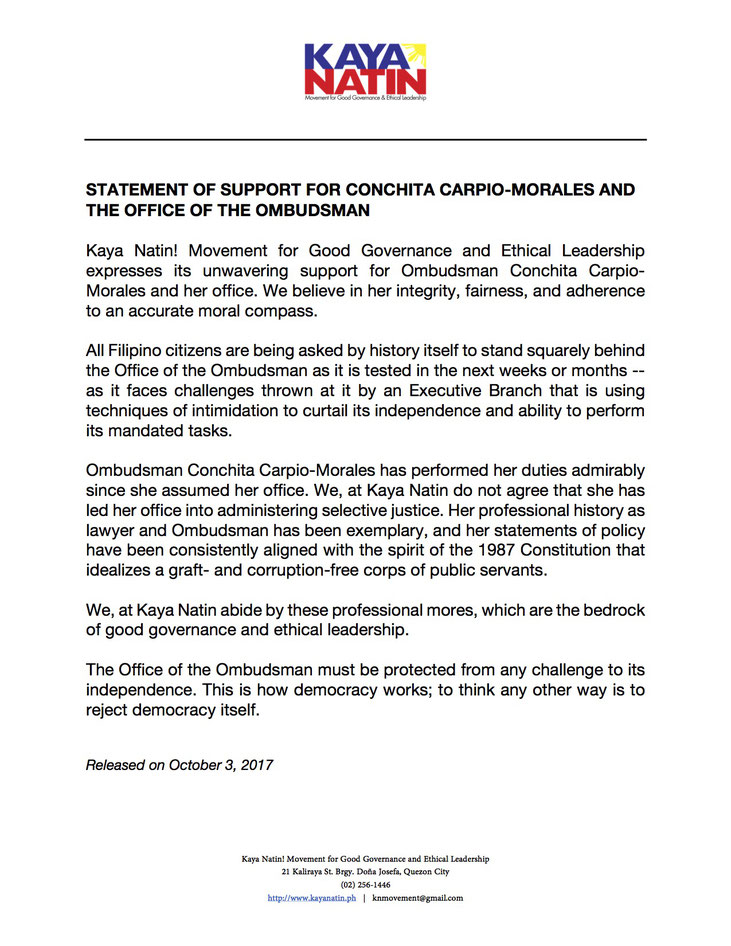 STATEMENT OF SUPPORT FOR CONCHITA CARPIO-MORALES AND THE OFFICE OF THE OMBUDSMAN
Kaya Natin! Movement for Good Governance and Ethical Leadership expresses its unwavering support for Ombudsman Conchita Carpio-Morales and her office. We believe in her integrity, fairness, and adherence to an accurate moral compass.
All Filipino citizens are being asked by history itself to stand squarely behind the Office of the Ombudsman as it is tested in the next weeks or months -- as it faces challenges thrown at it by an Executive Branch that is using techniques of intimidation to curtail its independence and ability to perform its mandated tasks.
Ombudsman Conchita Carpio-Morales has performed her duties admirably since she assumed her office. We, at Kaya Natin do not agree that she has led her office into administering selective justice. Her professional history as lawyer and Ombudsman has been exemplary, and her statements of policy have been consistently aligned with the spirit of the 1987 Constitution that idealizes a graft- and corruption-free corps of public servants.
We, at Kaya Natin abide by these professional mores, which are the bedrock of good governance and ethical leadership.
The Office of the Ombudsman must be protected from any challenge to its independence. This is how democracy work. To think any other way is to reject democracy itself.
#KayaNatinPH