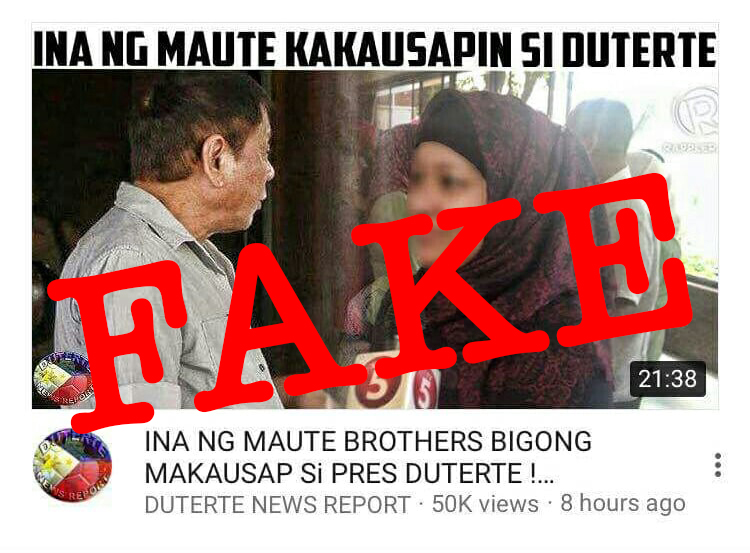 We, members of the Kaya Natin Movement for Good Governance and Ethical Leadership, express our outrage at the online smearing of Congressman Sitti Djalia Turabin Hataman in the middle an extremely dangerous war on-going in Mindanao.
As the government fights forces that have identified with the worst international terror networks today, there are equally monstrous forces that use the opportunity to sow division in our country through online warfare. 
One photoshopped image that circulated widely (clearly boosted) shows the face of Congresswoman Hataman replacing that of a Muslim woman who is captioned as the mother of terrorists. This is clearly political operations to destroy the good name of an exemplary woman and leader. 
Congresswoman Hataman, a Kaya Natin Champion,  is a devotee of the Islam centered on a peaceful heart. It is clear to all of us within Kaya Natin, and to all those she engages with, that her religion is the source of her devotion to and practice of  the ideals of good governance and ethical leadership.
It is also Islam that has guided her to a life assisting human rights victims, women's concerns, and victims of marginalization. She is the hub of a network of women like her. 
Most especially, however, we know our dear Sitti as an exemplary mother to five children. From the teenaged eldest to the youngest who has barely left todderhood, all are growing up as kind, intelligent, and lively human beings given to singing! 
The insinuation of a link between Congresswoman Hataman and by implication her husband Mujiv, Governor of the Autonomous Region of Muslim Mindanao, is pure evil mischief. Governor Hataman has been a key figure in the recent history of their native Basilan as a place where villagers themselves rejected terrorists. 
We call on our citizens to be alert to fake news, and, in this case bearing on Congresswoman Hataman, to dark insinuations that are meant to assign blame for the debacle in Mindanao. 
We call on our citizens to recognize that the war in Mindanao, today and in the past decades, have fed on lack of accurate information, nationally-circulated; and therefore on the ease with which falsehoods are sold to the public. 
Congresswoman Hataman is only the latest victim of a series of smear tactics launched against leaders, among which is Senator Bam Aquino, who have been nothing but agents of peace advocacies. 
Let us unite against fake news!