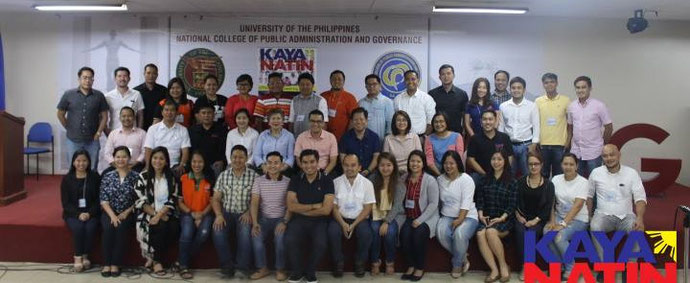 Leadership is not about title, nor position, nor authority. Leadership is about influence and change. When we lead, we make things happen. When we lead, we empower others.
Last May 6, 2017, the School of Leadership and Good Governance was launched at the National College of Public Administration and Governance in the University of the Philippines Diliman. SLG is a 6-month long fellowship program geared towards harmonizing and strengthening the existing effort of promoting ethical, empowering, and effective leadership among 35 legislators chosen from all over the country. KN Champions came to share their knowledge and experiences in good governance on topics such as effective management system given by Santa Fe, Nueva Vizcaya Mayor Florante Gerdan, public-private-partnership programs shared by Cabiao Nueva, Ecija Mayor Gloria Congco, organic agriculture and farmer's entrepreneurship led by San Jose, Nueva Ecija Mayor Marivic Belena.  
With the aim of furthering holistic leadership that will cater to different sectors of the society,  SLG will focus on youth and education, entrepreneurship and agriculture, environment and disaster risk reduction management, public health, and tourism, culture, and the arts. Representatives will have to attend a two-day seminar workshop every other month.
The initiative was convened by the Kaya Natin!, Friedrich Naumann Foundation, UP-NCPAG CLRG, ALEC and the National Movement of Young Legislators (NMYL).