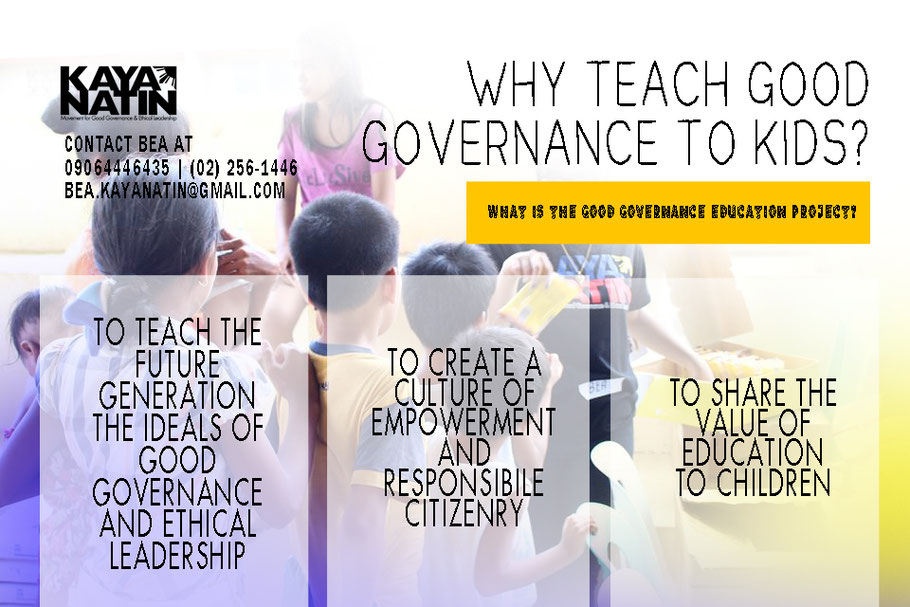 More often than not, values and ethics are forgotten in our children's basic education. Due to poverty and hardship, learning the simple ideals of good citizenship has become a privilege, instead of a right that each Filipino must be imbibed with. 
Thus, as part of Kaya Natin's advocacy to further good governance by instigating a culture of ethical leadership and empowered citizenry in our nation, we would like to bring the good governance education project in our adopted community in San Jose del Monte, Bulacan.
As we have shared in our previous newsletter, Brgy. Gaya-Gaya is a relocation site which we have officially adopted last June. We met this community during our campaigns for Kaya Natin Chairman Emeritus and now Vice President of the Philippines, Leni Robredo. From that meeting, we saw how isolated and impoverished their community is; and since then, we have mobilized volunteer efforts to help the barangay.
As we move forward in our initiatives in Brgy. Gaya-Gaya, we aim to bring the Good Governance Education project which will implement the "Kaya Natin Maging Mabuting PILIPINO" module--a program we initially conducted for our 8th anniversary last July 30 (read more about it here: http://x.rappler.com/x/KayaNatinStories/1469928329613-Starting-them-young-How-to-teach-Good-Governance).
Starting Sept. 17, our staff and volunteers will be heading to the community to conduct the program every Saturday for an entire month to grade 3 students in the area. Currently, only 3 hours are devoted to these students in their academics and regular school work due to the lack of facilities and classrooms in the school.
Hence, by starting this project, we wish to help these children by compensating for the lack of a strong educational presence in their lives through sharing with them not only good governance morals, but the value of education as well.
Truly, we cannot simply stand idly by and watch these people suffer from poverty. As good governance advocates, we must do our part as empowered citizens to bring the help these people need.
Thus, we come to you today to invite you to join us in our initiative in bringing the Good Governance Education program in Brgy. Gaya-Gaya, San Jose del Monte, Bulacan by sponsoring a child through purchasing any of the packages below: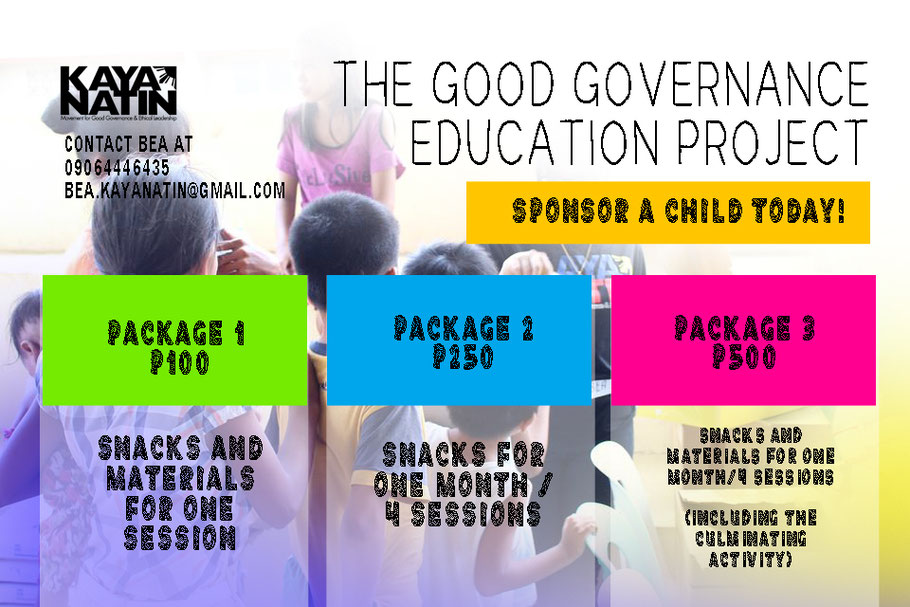 Together, let us be agents of change and bring good governance in this community.
Please contact Bea at (02) 256-1446 / 09064446435 / [email protected] to inquire about the sponsorship packages and to be directed to the proper avenues for donations.
Thank you very much and God bless!