A general assembly of Kaya Natin! volunteers was held at the Waling-Waling Room in Club Filipino last June 11, 2016. Attendees included millennials and senior citizens alike, united through the simple desire to uphold governance initiatives in the country.
Mr. Harvey Keh, lead convenor of Kaya Natin! shared to the volunteers that Kaya Natin! is a non-partisan movement, explaining that members of Kaya Natin! actually belong to differing political parties. However, what binds them together are the good governance initiatives upheld by the late DILG Secretary, Jesse M. Robredo, during his mayorship in Naga City.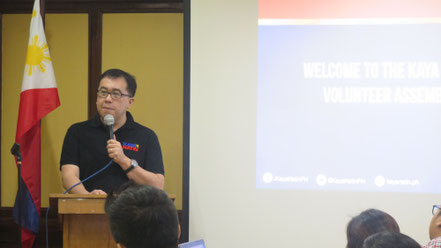 Ms. Marissa Lerios, a Kaya Natin! board member, was next to give her share of experiences. She joined Kaya Natin! starting as a volunteer. At that time, Ms. Lerios was working at the corporate world. However, she felt "lonely" because there was seemingly a lack of passionate nationalist sentiments in her work environment. So she diverted her efforts to working with Kaya Natin!, which helped her continue to express her love for country and gave her the opportunity to serve her countrymen.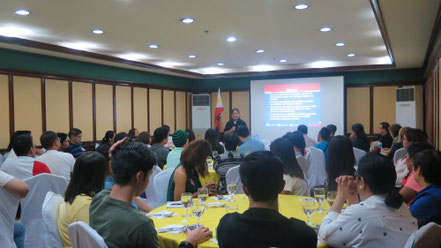 The volunteers were then grouped according to which areas they would like to help the organization in, such as a) Fundraising & Resource Mobilization, b) Social Media & Research, and c) Events. Upcoming events lined up for Kaya Natin! are the Kaya Natin! 8th anniversary on July 29, 2016, and the Jesse M. Robredo (JMR) exhibit which would commemorate Jesse Robredo Day on August 18, 2016.
            Kaya Natin! hopes that its new volunteers would have an unending fire burning inside of them that would be their guide in pushing for good governance and leadership with integrity in our country.
Kayang-kaya natin!